Pair of Vintage Steven Maslach Art Studio Signed Iridescent Crystal Wine Glasses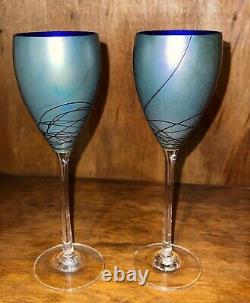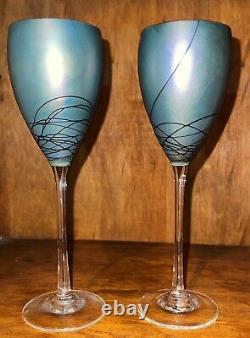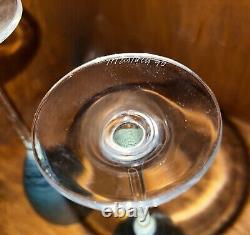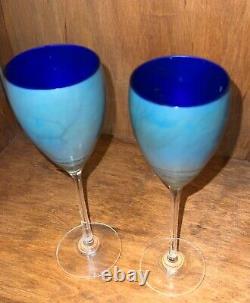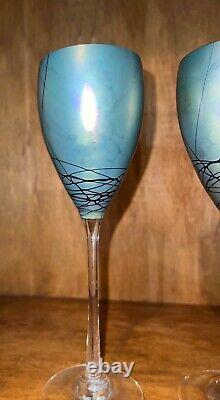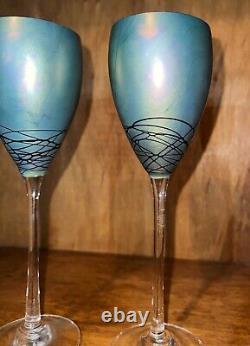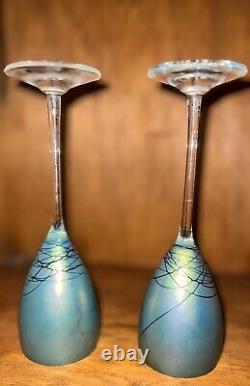 This set is hand signed by the artist, Steven Maslach, and is dated by year. Each glass has an etching, which reads:'Maslach 90. These glasses are heavy and they're in great condition.
Both glasses have a beautiful iridescent coloring, showcasing a blue-silver base with an iridescent sheen and cobalt blue cracklike design randomly placed across each glass. One light tap on these glasses will also tell you that they're very obviously crystal. The insides of each glass are a strikingly beautiful shade of cobalt blue, as well.
These 2 glasses are incredibly unique, high quality, as well as rich in colour, & beautiful. These glasses would make excellent additions to any glass or barware collectors display! Maslach founded his glass studio in 1971. A major contemporary glass artist, Maslach's work is both highly valued and sought after. Well respected in the art glass community, he has served on the Boards of the American Craft Council and the Glass Art Society.
Maslach's artwork is distinctive and showcases both elegance in form and a distinct richness in coloring.

---