VTG 1973 Original WATERFORD Crystal LISMORE Wine Glasses withBOX /MADE IRELAND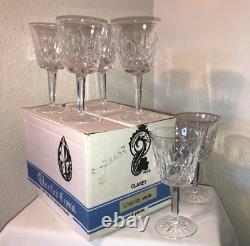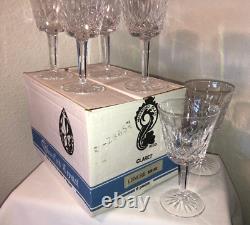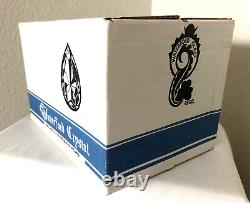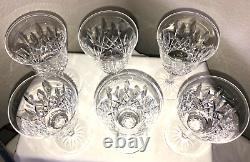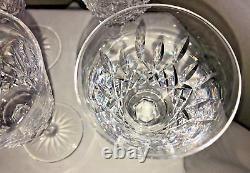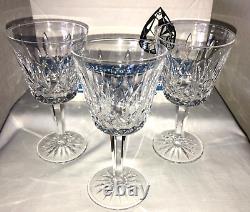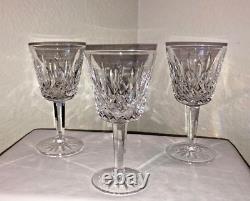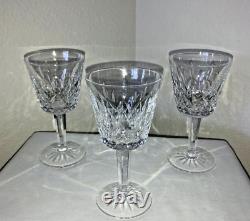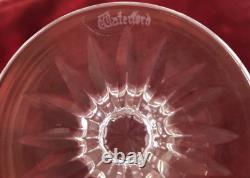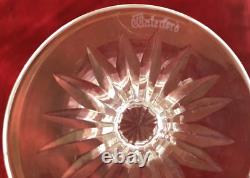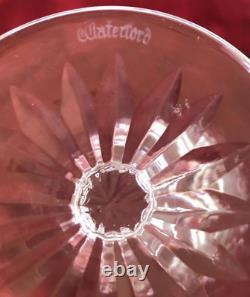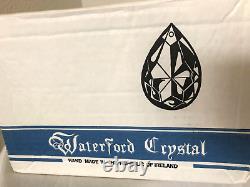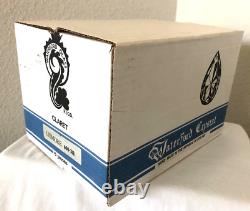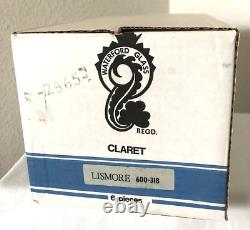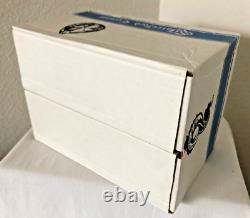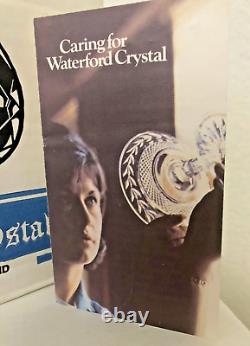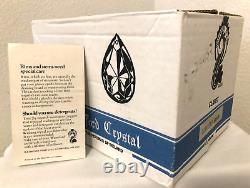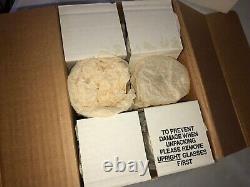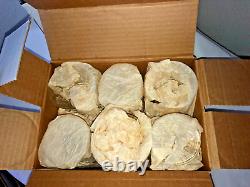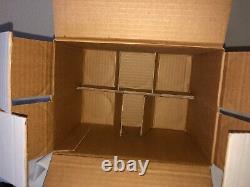 VTG 1973 - Original WATERFORD Crystal - Set of LISMORE Wine Glasses with ORIGINAL BOX - MADE IRELAND. RARE - Vintage 1973 - LISMORE - Set of 6 - Footed, Pedestal/Stem-base, Original Set of Wine Glasses. True Vintage Original Wine Glasses - with Original early 1970's Waterford Blue & White Presentation Box, and Original Insert. Full lead, hand-cut, renowned Waterford Crystal quality - Clear and brilliant - designed to.
"Sparkle in Candlelight and Firelight"! -'to glow red with a full-bodied wine. Hand Made in Ireland - Individually Hand Blown, Hand Cut (1970's 2-stage cutting). Box and Insert both Printed in Ireland - see photos.
Truly Excellent Vintage Condition - Never Used - Carefully Stored in Original Box. Hand crafted with the 2-stage cutting technique in use at that time - using the carborundum wheel, followed by the sandstone wheel, producing the distinctive brilliant sparkle of the early Waterford diamond and wedge facets - these early pieces, produced before the introduction and use of diamond wheels in the 80's - took far longer to create than later versions. The pattern Lismore has been in production on wine glasses from 1968, but only a very few were made in the early to middle 70's. Each glass is a'beautiful, individual work of art'.
Each glass is hand made, individually (not machine made - so no two can be exactly the same). More difficult to see on some than on others - and fainter signatures are more difficult to photograph - see photos (acid-etched stamps located on the underside of the foot). No UPC/bar-code on box (UPC & bar-codes did not exist whethi is n this was made). Authentic Vintage Waterford, Hand Made in Ireland; NOT a Reproduction or Copy; NOT made in Europe, (as were/are later pieces - at factories in Poland, Czech Republic, Germany, Hungary, and Slovenia). 5.75" tall overall x 3" across at widest point (across top opening). 9" x 6.75" x 6. Original Insert: Approx 6" x 5" (folded approx 3" x 5"). Caring for Waterford Crystal : Hand wash -'one piece of crystal at a time. From original insert (included): Wash carefully, one piece at a time; Fine rims and stems need special care - do not dry or store upside down. Remove all rings/jewelry before washing. Condition : Wine Glasses : Truly Excellent, Vintage, Unused Condition; Never used, and carefully stored in original box. No scratches, crazing, breaks, cracks, chips, discoloration or repairs; No signs of use; Original Box : also in excellent condition - (see photos) - No tears, holes, rips, punctures, cracks, splits, bumped corners, or repairs. No hand writing or notations on any part; Colors bright and clear - no fading or discoloration (was made using 50 year-old manufacturing & printing technology, but colors and detail really excellent overall, and especially remarkable for its age). Original Insert : Remarkable condition - no tears, holes, splits, creases or folds; no fading or discoloration (see photos); colors clear - no writing or notations - lays flat - perfect vintage condition; No damage. Please review all photos in close-up - ask for more if needed - plenty available. Authentic, Excellent Condition, Ready to Use, Collect, or to Gift. Some photos taken with flash to show detail.
Only this one box of wine glasses is available. 2 Pls Note Full lead crystal is very heavy.
Please review photos using the zoom close-up feature - ask for more if needed.

---